Giles Ji Ungpakorn
The death of the Thai king and the atmosphere of repression under the military junta has unleashed an ugly and dangerous royalist hysteria which is rapidly becoming a witch hunt against those who believe in democracy and equality. Anyone not wearing black in the streets or anyone rumoured to have supposedly "insulted" the king is being persecuted and threatened with violence while the authorities look on approvingly. The general in charge of the ministry of "justice" has even approved of mobs bullying dissidents.
The military and police have been taking advantage of the situation and arresting any dissidents who have been accused of insulting the king by the fantatics. No hard evidence is necessary. One such person was arrested after police "found" a single methamphetamine pill.
There were three cases of angry mobs attacking people in various southern provinces only days after the death of the king. These are areas where Sutep and his Democrat Party mobs drew support for their anti-election rampage through Bangkok in 2014. Many of these thugs may now be engaging in the royalist witch-hunts.
https://www.facebook.com/100010058258085/videos/356653494679923/
On the tourist island of Koh Samui, a howling crowd of 500 fanatical royalists forced a young woman to grovel in front of a picture of the king and ask for forgiveness at a local police station for apparently "insulting" the king. The police clearly sided with the crowd.
An elderly woman was slapped in the face in front of police for apparently "insulting the monarchy"…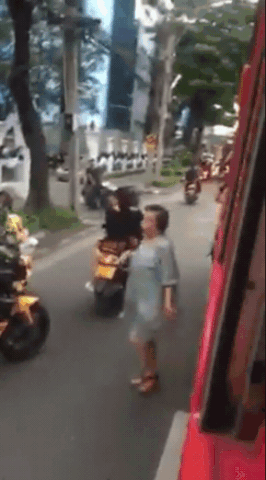 There have been numerous threats to people on social media for not changing their profiles to black and white.
Self-appointed "Witch-Hunter General", Major General Riantong Nanan, director of Monkutwatana Hospital, has incited people to "deal" with Aum Neko, exiled trans-gender prodemocracy activist, who has been given asylum in France. He also threatened to do her harm himself.
A fanatical royalist also posted on her face book that someone should "deal" with me in England as a result of my call for a republic.
It reminds many of us of the kind of atmosphere created around the 6th October 1976 massacre at Thammasart University.
But what it exposes more than anything is that love and respect for the Thai monarchy is hardly voluntary or natural in the case of millions of people. It exposes that the royalists are really frightened of a possible republican mood in the country after the death of Pumipon.
Let us hope that their fears are justified!!